Your Site: Home> About Us >
Company Profile
Company Profile
INTRODUCTION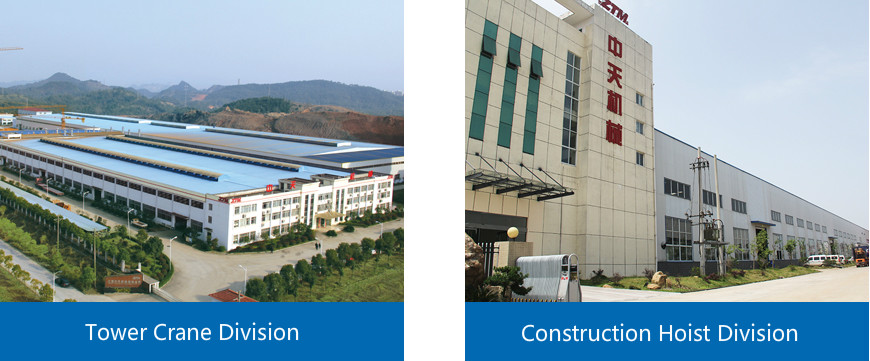 ZTM Ltd was established from a national military industry enterprise to a large-scale mechanic company with advanced technology. Tower crane and construction hoist productions have been the main focus of our research with a professional team of relative expects. With the rapid development of more than ten years, ZTM Lt became a recognized name as well as a model company in the field of architecture and mechanics.

We have a group of stable and high-class customer groups, mainly from Yichun City Jiangxi Province, and also scatter in other provinces like Hunan, Hubei, Guangdong, Fujian, Anhui, Shanxi, Guizhou, Yunnan, etc. We have been building a competitive top brand image and developing in the other areas of China rapidly.

Cooperating with academies for technological exchange has been the key approach to supply the company's creativity and competency. We have been partnership with East China JIaotong University, Nanchang University, Wuhan University and Nanhua University to improve the technological progress and creativity. Currently we have obtained a few patent rights for the inventions as well as more than ten certificates from SIPO.

The latest ZT Sharp-head and ZTT Flat-head series crane towers have been invented by ZTM Ltd for more than 40 years hard work, which are sound quality with various sizes. SC, SCD and SCBP series construction hoist productions has been assembled with the good quality worldly renown branded electronic elements, which emphasize the safety and stability. Among these series productions, Energy-saving Hydraulic Construction Lift has reached the top-level quality in the world that enable people to move smoothly, safely, comfortably and suitable for both household use and special construction projects. ZT6012 & ZTT7015 model Tower Crane and SC200/SC200BV model Hydraulic Construction Hoist have been privileged that receive the reward as the Popular Renting Construction Production of China.

ZTM Ltd possesses the advanced professional intelligent equipments and facilities, combining perfectly with the updated high-efficient ERP enterprise organization system. We try our best to guarantee the customer benefits and to provide the products and service superior to the expectations of customers.

"Sincerity, Quality and Serving" are the foundation principles of our company. We aim to develop better products and better service for our customers and the whole society. We were honored to achieve the title as "National Innovational Technical Enterprise", "Jiangxi Province Branded Production", "Jiangxi Province AAA-level Quality Company" and "Jiangxi Province Modern Enterprise Organisation System". Because of the active participation of public welfare programs, we have received the rewards as "Contributions for 3+1 Program", "Red-cross Donation Star", "Start-up Company Support" etc..

We look forward to having the future potential cooperation with you!